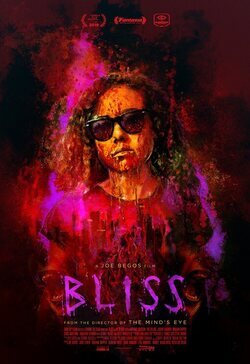 Write a review
Release Dates
United Kingdom: February 10 2020
United States: September 27 2019
Ranking
Ranking: 770 out of 15,768 movies (up 173)
Plot
'Bliss' follows the story about Deezy, an artist based in Los Angeles that is suffering a terrible creative block, only getting worse by the minute along her financial problems. Her manager leaves her because she can't finish her newest commissioned work. She is desperate to come out of this situation. Deezy is convinced by her friend Courtney and her husband Dante to try and let loose her inhibitions with alcohol, sex and drugs. Deezy tries a substance that finally breaks the loop she has into and goves her the inspiration she craved so much. She thinks thanks to this particular drug she is going to paint her great masterpiece. Her fling, almost boyfriend, Clive is severely worry about her. Little does she know about the dangerous side effects this drugs will make her feel. She starts to have strong hallucinations. Quickly she develops a brutal violence and an unstoppable bloodlust, that will endangered everyone in her life. This film is directed and written by Joe Begos, who has been a director for other horror films such as 'Almost Humans', 'VFW' or 'The Mind's Eye'. The cast includes Dora Madison ('Dexter'), Tru Collins ('Insecure'), Rhys Wakefield ('True Detective'), Jeremy Gardner ('After Midnight'), Graham Skipper ('Almost Humans'), Chris McKenna ('State Affairs'), Mark Beltzman ('Billy Madison'), George Wendt ('Cheers'), among others. Hide full plot... Show full plot
Director
Cast Bliss
Videos
Photos
Trivia Bliss
This is the third Joe Begos full-lenght film in six years.
The actress Dora Madison also appears in another horror movie by Joe Begos made in 2019, 'VFW', in which a group of war veterans must defend their local VFW against a drug dealer and his relentless army of punk mutants.
The director Joe Begos has talked about the idea in this film's plot: "I always wanted to make a movie about an artist in Los Angeles and not about someone in the beautiful Hollywood hills making millions of dollars as an artist. I wanted something that would showcase the dirty and shabby side of Los Angeles, that exist, but it seems that no one wants to show it on the big screen". He was inspired by his own situation of despair for not being able to do his art.