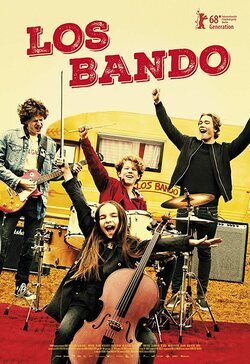 Write a review
Ranking
Ranking: 6,492 out of 16,430 movies (up 6156)
Plot
'Los Bando' is a movie that follows the lives of Grim, Aksel, Martin and Thilda, four young Norwegians who decide to set up a rock band. The group must go to the National Champions of Rock, so the teenagers embark on a crazy adventure across the country to get to the competition. However, they will not have it so easy to fulfill their objective, because they will be persecuted by the police and, above all, their parents. The movie is directed by Christian Lo (director of 'Rafiki' and 'The Tough Guys') and is starring Tage Johansen Hogness, Jakob Dyrud, Jonas Hoff Oftebro and Tiril Marie Høistad Berger in the role of the teenagers. The actors are mostly amateurs, with the exception of Jonas Hoff Oftebro.
Cast Los Bando
Simen
Frank
Roger
Videos
Photos
Trivia Los Bando
Jonas Hoff Oftebro es the only actor form of the main quartet who had already worked in movies. For other, it's his first feature film.
Stig Henrik Hoff, actor who plays Simen in the film, is known for play in movies like 'The Thing', in 2011.