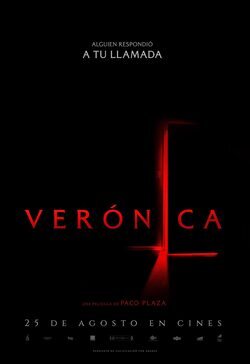 Write a review
Plot
Based on real events 'Veronica' tells a story that happened in Madrid in the 1990s. Inspired by the bizarre Vallecas case, still unresolved, the film focuses on Veronica, a teenager who after making a ouija with friends is besieged by supernatural presences that want to hurt her family. The film is directed by the spanish film director Paco Plaza, author of the REC saga and it has a cast formed by Sandra Escacena, Bruna González, Claudia Placer and Iván Chavero as debutants and Ana Torrent, Sonia Almarcha, Maru Valdivielso and Leticia Dolera.
Awards
Premios
Año
Nominaciones
Premios ganados
Goya Awards

2018
9
1
Feroz Awards

2018
6
-
Director
Cast Veronica
Videos
Photos
Trivia Veronica
'Verónica' means the return of Paco Plaza to the direction of a feature film five years after he directed the third movie of '[REC]'.
At first the movie 'Verónica' was going to be called 'El expediente'.
Paco Plaza worked alongside Jaume Balagueró directing the films '[REC]' and '[REC 2]'.