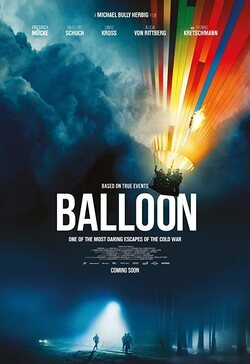 Write a review
Release Dates
United Kingdom: June 14 2019
Ranking
Ranking: 479 out of 15,908 movies (up 136)
Plot
'Balloon' is a German historical thriller based on shocking true events and the experiences of the 75,000 GDR citizens that attempted to flee to the west from the 1960s to the 1980s. Set in 1979 in the state of Thüringen, East German, 'Balloon' follows the Strelzyk and Wetzel families, who are desperate to leave the GDR for West Germany. With border security too tight for them to ever dream of making a run for it, they plan to make that escape through simply flying over border patrol in a homemade hot air balloon after Günter Wetzel (David Kross, 'War Horse') reads an article about an annual ballooner's convention held in New Mexico. When their first attempt fails and crash lands, the families are determined to build another and make their escape for good, but the remains of the first balloon alert the East German authorities of their plans. Günter and his wife Petra (Alicia von Rittberg, 'Fury'), and Peter Strelzyk (Friedrich Mücke, 'The Valley') and his wife Doris (Karoline Schuch, 'Willa') must complete their second attempt and flee with their young children before they're caught and captured as traitors to the state. 'Balloon' is directed by Michael Herbig ('Bully & Rick'), and is written by Herbig, Kit Hopkins ('Mounted by the Gods') and Thilo Röscheisen ('Cargo'). Hide full plot... Show full plot
Director
Cast Balloon
Videos
Photos
Trivia Balloon
This film depicts the construction and launching of two improvised hot-air balloons. There were actually three. The first was an utter failure, because they had utilized a cotton-based fabric that was porous and leaked air massively.
'Wind of Freedom' is the first thriller directed by Michael Bully Herbig, a director specializing in comedy.
'Ballon' is based on the true story of two families who tried to cross the East and West German border traveling aboard a balloon. However, it is not the first film to narrate these facts, since in 1982, John Hurt starred in 'Fuga de noche', film that dealt with the same events.