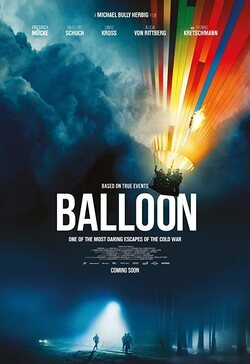 Write a review
Release Dates
United Kingdom: June 14 2019
Ranking
Ranking: 104 out of 15,439 movies (up 114)
Plot
Historical drama based on a real story located in the year 1979, in the old and socialist German Democratic Republic and in the middle of the Cold War between the two world hegemonic blocs. Two humble families seek the way to reach the promised freedom of the capitalist side, that they do not find in the communist one. They will arm themselves with bravery and ingenuity and build what will be their method of escape, one of the most original seen at that time. With long remnants of fabric purchased or found, a domestic sewing machine and butane cylinders will create a hot air balloon that will fly over the Berlin Wall and the neutral zone to pass to the other side without being caught in the attempt.
Director
Cast Balloon
Videos
Photos
Trivia Balloon
This film depicts the construction and launching of two improvised hot-air balloons. There were actually three. The first was an utter failure, because they had utilized a cotton-based fabric that was porous and leaked air massively.
'Wind of Freedom' is the first thriller directed by Michael Bully Herbig, a director specializing in comedy.
'Ballon' is based on the true story of two families who tried to cross the East and West German border traveling aboard a balloon. However, it is not the first film to narrate these facts, since in 1982, John Hurt starred in 'Fuga de noche', film that dealt with the same events.