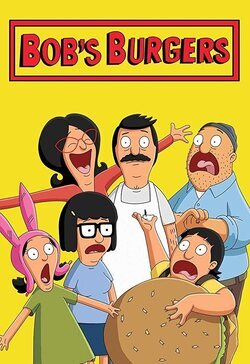 Release Dates
United States: April 09 2021
Ranking
Ranking: 7,961 out of 16,123 movies (up 3347)
Plot
'Bob's Burgers: The Movie' is the cinematic spin-off of the beloved television series about the restaurant-running Belcher family headed by married couple Bob and Linda Belcher with their three offbeat kids, Tina, Gene and Louise. 'Bob's Burgers: The Movie' promises to follow the family as they get up to their usual wacky antics whilst also answering some long-standing questions of fans of the series such as why the youngest Belcher sister, Louise, is permanently sporting her iconic pinky bunny cap. Forming the voice cast are known voices from the animated series such as H. Jon Benjamin ('Archer', 'Wet Hot American Summer') as Bob Belcher, John Roberts ('Gravity Falls', 'My Drunk Aunts') as Linda Belcher, Dan Mintz ('Veep', 'Son of Zorn') as Tina Belcher, Eugene Mirman ('Delocated', 'Flight of the Concords') as Gene Belcher, Kristen Schaal ('BoJack Horseman', 'The Last Man on Earth') as Louise Belcher and Larry Murphy ('The Venture Bros.', 'Word Girl') as Teddy. Loren Bouchard ('Central Park', 'Lucy: The Daughter of the Devil', 'Home Movies'), the creator of the animated series, will serve as producer. Editing is headed by Michael Matzdorff ('The Adventures of Beatle', 'Volcano', 'Fight Club') and Cris Mertens ('Jurassic Park, 'Total Recall', 'Fast & Furious 5').
Cast Bob's Burgers: The Movie
Louis Belcher
Linda Belcher
Trivia Bob's Burgers: The Movie
This is the first animated film to based on a FOX animated sitcom since The Simpsons Movie.
20th Century Fox's second traditionally animated film to be rated PG-13 by the MPA after The Simpsons Movie (2007).
20th Century Fox's first film to be composed by Randy Newman since they previously had films composed by Randy's younger cousins David Newman and Thomas Newman.