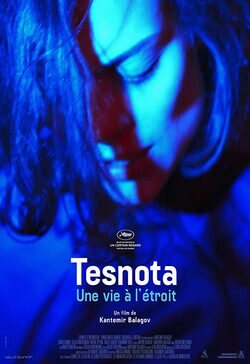 Write a review
Ranking
Ranking: 3,869 out of 16,397 movies (up 2998)
Plot
Russian director Kantemir Balagov presents his feature film debut with 'Closeness'. In Nalchik, a Russian town close to the frontier with Georgia, Ilana and her family have trouble making ends meet. But one night, they decide to make an exception to celebrate the engagement of David, Ilana's brother, and his girlfriend. The next day, David and his fiancée are nowhere to be found, and the family receives a kidnapping note. From this point, the door is open for a spiral of madness and despair while Ilana and her family risk it all in order to save David. The film participated at the 2017 Cannes Festival inside the section Un Certain Regard, where it participated in the section Un Certain Regard, where it won the FIPRESCI Award from the international critics.
Director
Photos
Trivia Closeness
In spite of the film being located in Nalschik, most of the filming was developed in Saint Petersburg for budgetary reasons. Just some exterior sets are really Nalschik.
Closeness includes a polemic sequence where the director includes a snuff video he found when he was young. In it, a real person appears dying. Since the film does not warn in advance that it will show these images, it has caused some controversy.
At the beginning and the end of the film, there is some text that contextualize the story in time and space for the viewer. This was an idea of Alexander Sokurov, who was a teacher of the film's director, because various critics told him that context was needed to understand the movie.