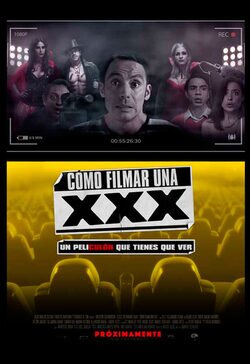 Write a review
Ranking
Ranking: 3,760 out of 15,989 movies (up 1797)
...
Be the first to score this movie!
Plot
Finally, Ulises Alpuyeca's dream is about to come true. After years trying to become a film director, and after being rejected several times with his script 'In the winter of my discouragement, he receives a call that will change his life. Producer Lucilo Ferrrer wants to give Ulises his first work as a director and he doesn't think twice and signs the contract right away. However, when the script comes in, Ulises realizes 'Stabbing the sucking vampire ladies with a stake' is a pornographic film. How could he back up now? Alpuyeca decides to move forward with the film along with his friend and photographer Gudelio Medina as accomplice. But to develop the filming, he will have to fool his girlfriend, the actors and all the film crew.
Director
Cast Cómo filmar una XXX
Photos
Reviews Cómo filmar una XXX
Trivia Cómo filmar una XXX
The movie is based on 'Cómo filmar una película por no decir XXX', a theatre play written by Alejandro Licona. A big part of the play crew, like Gabriel Retes or Miguel Islas, also participate in the film.