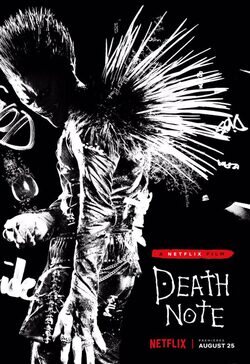 Release Dates
United Kingdom: August 25 2017
United States: August 25 2017
Ranking
Ranking: 201 out of 12,813 movies (up 257)
5.0 by Movie'n'co
4.1 by 4 media
Plot
'Death Note' is a cinematographic adaptation of the namesake japanese manga written by Tsugumi Ohba and illustrated by Takeshi Obata. This american adaptation will be directed by Adam Wingard with the adapted script done by Jeremy Slater. Young actor Nat Wolff will star as Light Turner, a brilliant students who will find a mysterious notebook that has the dark power of killing anyone whose name it's written by him in it. From the moment he finds out about it, he will take his place as a vigilante set to rid the streets of criminals and undesirable people and make the world a better place to live. Soon he will be persistently chased by the police alongside a mysterious and famous detective known as L.
Director
Cast Death Note
Videos
Photos
Trivia Death Note
Chris Britton (Aaron Peltz) had played Soichiro Yagami (renamed James Turner in this film) in 'Death Note' (2006).
Adam Wingard read the 'Death Note' manga comic to find a way to translate the story to an American environment: "Death Note is such a Japanese thing. It became about what do these themes mean to modern day America, and how does that affect how we tell the story. What are the things that people chalk up to conspiracy theories? What kind of weird underground programs does the government have? How do those work in the world of 'Death Note'?".
Filming began on July 7, 2016.
Recommended