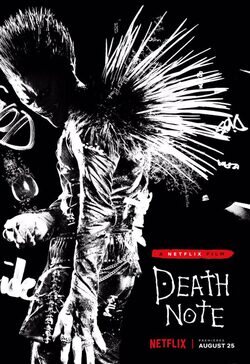 Write a review
Release Dates
United Kingdom: August 25 2017
United States: August 25 2017
Ranking
Ranking: 1,812 out of 16,357 movies (up 487)
Plot
'Death Note' is a cinematographic adaptation of the namesake japanese manga written by Tsugumi Ohba and illustrated by Takeshi Obata. This american adaptation is directed by Adam Wingard with the adapted script done by Jeremy Slater. Young actor Nat Wolff ('Paper Towns') will star as Light Turner, a brilliant students who will find a mysterious notebook that has the dark power of killing anyone whose name it's written by him in it. From the moment he finds out about it, he will take his place as a vigilante set to rid the streets of criminals and undesirable people and make the world a better place to live. Soon he will be persistently chased by the police alongside a mysterious and famous detective known as L. The entrusted to deposit in his hands this mysterious notepad is Ryuk (Willem Dafoe), a shinigami or demon that dropped it by pure boredom. As the rules dictate, it must accompany the new owner of the same (in this case Light) until this carrier dies. However, this does not prevent you from enjoying your stay with Light and have fun at your expense, even if it means eating hundreds of apples to avoid getting abstinence syndrome. Being an American adaptation, typical elements of the film culture of this country could not be missing. Margaret Qualley plays Mia Sutton, Light's mate and her lover. Although their relationship could remain there, the truth is that Mia becomes a valuable ally when Light wants to eradicate from the face of the earth as many criminals as he can. Although it has been crossed out of whitewashing, the truth is that it has had the support of Tsugumi Ohba and Takeshi Obata, both creators of the original manga. Alongside them, there have also been producers of the likes of James Bitonti ('The Edge of Seventeen'), Jonathan Eirich ('Aladdin'), Brendan Ferguson ('Big Eyes') and Ryan Halprin ('The Lego Batman Movie').
Director
Cast Death Note
Videos
Photos
Trivia Death Note
Chris Britton (Aaron Peltz) had played Soichiro Yagami (renamed James Turner in this film) in 'Death Note' (2006).
Adam Wingard read the 'Death Note' manga comic to find a way to translate the story to an American environment: "Death Note is such a Japanese thing. It became about what do these themes mean to modern day America, and how does that affect how we tell the story. What are the things that people chalk up to conspiracy theories? What kind of weird underground programs does the government have? How do those work in the world of 'Death Note'?".
Filming began on July 7, 2016.