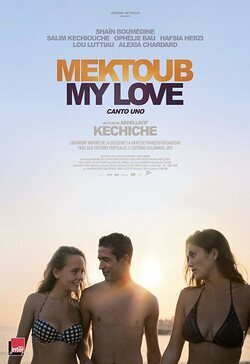 Write a review
Release Dates
United Kingdom: February 15 2019
United States:
Ranking
Ranking: 1,432 out of 14,838 movies (up 1244)
Plot
The film directed by Abdellatif Kechiche happens in summer 1994. Amin is a young who has been a year studing photography and cinema at París. The student returns to his home town at mediterranean french coast to summer vacations. There he find out his cousin has a romance with his friend Ophélie, who is engaged. Amin happens the summer between his family and friends while he meet girls at the beach and go out to the parties at night. Amin meet Jasmine and fall in love with her. But there's a problem: her husband is a producer and he wants to produce one of Amin's script. So he has to decided between his dream carreer and the girl of his dreams. Finally 'Mektoub' (destiny in arab) will be who decide the future of the young photographer. The main cast is formed by Shaïn Boumedine, Ophélie Bau, Lou Luttiau, Salim Kechiouche, Alexia Chardard,Hafsia Herzi, Delinda Kechiche, Kamel Saadi, Hatika Karaoui, Estefania Argelich, Sieme Miladi, Meleinda Elasfour and Karina Kolokolchykova. The film is a free adaptation of the novel 'La blessure, la vraie' from french writter François Bégaudeau. Hide full plot... Show full plot
Director
Cast Destiny, My Love: First Song
Videos
Photos
Reviews Destiny, My Love: First Song
Trivia Destiny, My Love: First Song
The film was introduced at Venecia's Festival in 2017.
The script is based on the french novel from François Bégaudeau 'La blessure, la vraie'.
'Mebtouk' is based on a François Bégaudeau's novel, but it isn't the first novel of the french director that goes to cinema. The film 'La clase' (2008) of Laurent Cantet is an adaptation of another novel of Bégaudeau that gets Golden Palm at Venecia's Festival.