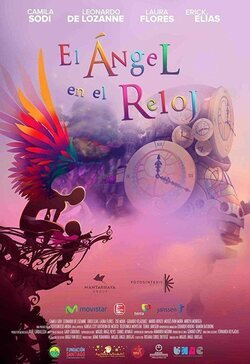 Write a review
Ranking
Ranking: 6,900 out of 15,767 movies (up 1855)
Plot
Amelia is a kind and curious little girl who wants to have the power to stop the time because she was diagnosed with cancer, the reason why she wants to live as much as possible. In this fairy tale film, she will meet Malachi, an angel who lives inside her cuckoo clock. Malachi will show Amelia the fields of the time during a fantastic journey that will teach Amelia the meaning of being alive now, here, in this precisely moment. 'El ángel en el reloj' is an endless animation adventure for the kids with a message to be thankful. 'El ángel en el reloj' was created to support childhood cancer research by raising funds. The film is directed by Mike Uriegas and produced by Mantarraya Producciones.
Director
Photos
Reviews El ángel en el reloj
Trivia El ángel en el reloj
The film is charitable by donating part of its benefits to organizations responsible for combating childhood cancer.
Miguel Ángel Uriegas, director of 'El ángel en el reloj', brings a second film with the intention of educating in cinema, since his debut feature, 'The Incredible Story of the Stone Child', spoke about emotional empathy in childhood.
In addition to wanting to help research to fight against childhood cancer, Uriegas seeks to raise awareness among families about the reality of children suffering from leukemia.