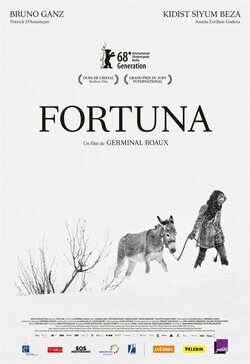 Write a review
Ranking
Ranking: 4,778 out of 16,242 movies (up 1149)
Plot
Fortuna (Kidist Siyum) is a 14-year-old Ethiopian girl who, along with other refugees, is welcomed into a community of Catholic ecclesiastics who live in a secluded and cold monastery in the Swiss Alps, 2000 meters high. There the young woman will meet Kabir, a 26-year-old African man who will end up falling in love passionately, but both will have to keep their relationship secret to avoid problems with their community in the monastery. It is winter so the monastery will become a good refuge, but it will also be the scene of all kinds of events and things that will destabilize the tranquility of the monks and all those who now inhabit that place. Will they be able to guide Fortuna towards their new life or will they have to give up all their hospitality? Everything will get complicated for Fortuna when Kabir mysteriously disappears and he will have to sacrifice everything he has for him. The bright black and white photograph of Colin Lévêque creates a contrast that invites us to immerse ourselves in an atmosphere of hostility of the snowy mountains. The film is directed and written by Germinal Roaux and it has been in the 68th edition of the Berlin Festival of 2018. The cast is formed by Kidist Siyum, Bruno Ganz and Patrick d'Assunçao.
Director
Cast Fortuna
Videos
Photos
Trivia Fortuna
This was one of the last movies that Bruno Ganz made before he died.
The film won the Crystal Bear in the Berlin International Film Festival.