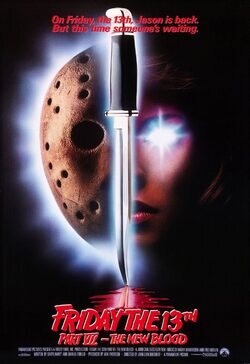 Write a review
Release Dates
United Kingdom: June 24 1988
United States: May 13 1988
Ranking
Ranking: 3,179 out of 16,515 movies (up 1255)
Plot
Director
Cast Friday the 13th Part VII: The New Blood
Dr. Crews
Jason Voorhees
Photos
Reviews Friday the 13th Part VII: The New Blood
Trivia Friday the 13th Part VII: The New Blood
During filming, the dressing room for Kane Hodder was a quarter of a mile down a dirt road. One night filming ended at at 2 a.m. and he was still in the Jason costume, and he decided to walk through the woods on a path to his dressing room. As he was walking someone approached him and asked if he was with the movie. He didn't reply, because he thought it was a pretty stupid question to ask, as he was standing there in full Jason costume. The man asked again, Kane took a little lunge for the guy and grunted. The guy took off, tripping and running. The next day director John Carl Buechler told Kane that the local sheriff was supposed to stop by, but he never showed.
This film was originally intended to bring Jason Voorhees and Freddy Krueger together onscreen for the first time. But when Paramount Pictures (at that time was holding the rights to the "Friday the 13th" film series) and New Line Cinema (who holds the rights to the "Nightmare On Elm Street" series) couldn't agree behind the scenes, the script was rewritten to pit Jason up against the telekinetic Tina Shepard instead.
Kerry Noonan, who played Paula in 'Friday the 13th Part VII: The New Blood' (1986), read for the role of Tina, when she thought the title was "Birthday Bash." She quickly realized that it was a Friday the 13th film and confessed that she'd starred in the last movie, so John Carl Buechler decided not to cast her.