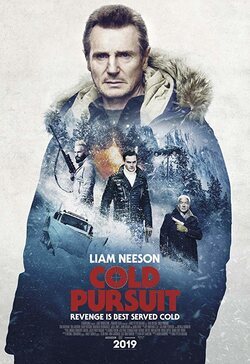 Write a review
Release Dates
United Kingdom: February 22 2019
United States: February 08 2019
Ranking
Ranking: 582 out of 16,395 movies (up 369)
Plot
Nels (Liam Neeson, 'Taken') is an honest man dedicated to his family, who lives in a small but flourishing resort town in the Rocky Mountains. Everybody in the town loves and appreciates Nels thanks to his job as snowplow in such a wintry landscape, even going so far as to award him with the 'Citizen of the Year' prize. One day, however, Nels's son, Kyle (Micheál Richardson, 'Big Dogs') is kidnapped and murdered by a powerful drug lord and his body is disposed of in a fashion that makes it look as if Michael died from a heroin overdose. Wracked with grief and guilt for doubting the son that he knew, Nels decides to take the law into his own hands. Using the hunting and wilderness skills he has developed over the years, Nels transforms himself into a ruthless man out for vengeance by dismantling the drug ring. Before long, however, Nels finds himself the cause of a turf war between rival gangs, one of which is headed by the loose cannon of a mob boss who goes by the name of Viking. This American remake of crime thriller 'In Order of Disappearance' has the same director, Hans Petter Moland, at the helm and is written by Frank Baldwin. Starring alongside Liam Neeson are Laura Dern ('Jurassic Park'), Michael Eklund ('The Call') and Tom Bateman ('Vanity Fair').
Director
Cast Cold Pursuit
Videos
Photos
Trivia Cold Pursuit
In early 2017, the film was refused a permit to shoot in Banff National Park in Alberta, Canada. The explanation given was that Parks Canada objected to the antagonist of the film being an aboriginal Canadian. Even the actor playing the role, popular aboriginal Canadian Tom Jackson, could not sway the government agency's opinion, and the production was moved out of the park.
Unlike the original, this movie will not include humor and will be an action/thriller re-imagining of the 2014 movie source material
In the original film 'In order of disappearance', the main character was called Nils Dickman, which refers to the male sex organ causing much laughter for other characters.