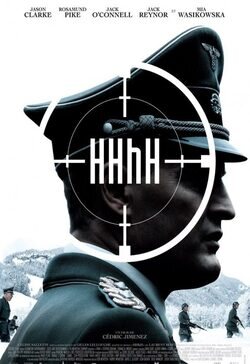 Write a review
Info
Year: 2017
Original Title: The Man with the Iron Heart
Country: France
Length: 120 minutes
Genre: Action, Biography, Thriller
Studios: Nexus Factory
Distributor: Lionsgate
Suitable only for 15 years and over
View trailer
Release Dates
United Kingdom: November 10 2017
United States:
Ranking
Ranking: 1,658 out of 14,634 movies (up 779)
Plot
From the director Cédric Jiménez ('La French'), 'The Man with the Iron Man' arrives, a story about one of the most dangerous figures in the Nazi regime, and the brave men and women of the Resistance who tried to kill him. The meteoric rise of Reinhard Heydrich to become one of the main figures of the Nazi regime was as fierce and implacable as the horrors he inflicted on the people of Europe before and during World War II. Heydrich, who came into contact with Nazi ideology through his wife, Lina, a member of the aristocracy who accompanied him on his journey to power, was the chief architect of the Final Solution and an unstoppable force. However, a small group of Czech Resistance fighters, trained by Great Britain and commanded by the Czechoslovak government in exile, tried to stop the unstoppable. In a risky operation, these parachutists, led by Jan Kubi? and Jozef Gab?ík, attacked Heydrich as he traveled through the streets of Prague, inflicting fatal injuries. In this way, Reinhard Heydrich ended up being the highest-ranking Nazi officer killed during World War II. Hide full plot... Show full plot
Director
Cast The Man with the Iron Heart
Videos
Photos
Reviews The Man with the Iron Heart
Trivia The Man with the Iron Heart
The movie was scheduled for release in 2016 but was pushed back to 2017 because of the possible conflict and confusion with 'Anthropoid' (2016), starring Cillian Murphy and Jamie Dornan, which tells the same story of Operation Anthropoid, the mission to assassinate Nazi leader Reinhard Heydrich, and which was released late summer 2016.
The original working title of this film, 'HHhH', is a war-time Gestapo acronym for Himmlers Hirn heißt Heydrich ("Himmler's brain is called Heydrich"),
Recommended