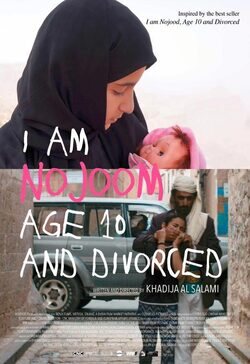 Write a review
Ranking
Ranking: 9,055 out of 16,014 movies (up 1575)
Plot
What would happen if you were forced to marry a man in his thirties when you are only ten? In Yemen there is no minimum age for marriage, Nojoom's family made her to do it with a man 20 years older than her in exchange for a small income and the possibility of having one less mouth to be fed at home. However, although it seemed a deal that would benefit all parties, Nojoom's life changes dramatically and decides going to a judge and ask for divorce. She knows it is a difficult way, but she is not disposed to continue being abused by her husband and she will fight for justice listen her and getting the desired separation. The film is directed by the Yemeni director Khadija Al- Salami, starring Rana Mohammed and Mohammed Reham, who play Nojoom at different stages of his life, and Adnan Alkhander, who plays the judge.
Director
Cast I Am NoJoom, Age 10 and divorced
Nojoom
Judge
Nojoom (5 años)
Videos
Photos
Reviews I Am NoJoom, Age 10 and divorced
Trivia I Am NoJoom, Age 10 and divorced
Based on the story of Nujood Ali, the first girl in Yemen who went to court to get a divorce.