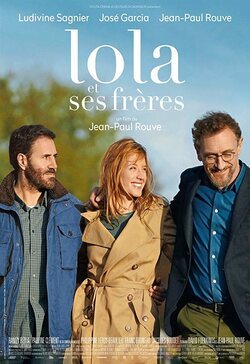 Write a review
Ranking
Ranking: 9,940 out of 16,241 movies (up 1588)
Plot
Lola has two brothers: Benoit, who is getting married for the third time, and Pierre, who is already late for the wedding. Excuses, fights, arguments... each one of them live their lives their own way. Benoit is going to be a father by surprise and he is not ready for it. Lola is finishing with her divorces papers at the same time she meets Zoher. And Pierre, his professional life get complicated. Everything seems to make the siblings be apart from each other, but actually, they are inseparable. The movie has Ludivine Sagnier ('The Young Pope') as the leading role as Lola. Jose Garcia is Pierre ('The Take') and Ramzy Bedia as Zoher. The director, Jean-Paul Rouve ('Les Souvenirs') will impersonate Benoit. He also has written the script with David Foenkinos.
Director
Cast Lola et ses frères
Videos
Photos
Reviews Lola et ses frères
Trivia Lola et ses frères
Filming began in early November 2017 and ended in December. The film was shot in Angoulême, Cognac, Saintes, La Rochelle in the Charente-Maritime region, some scenes were shot in Bordeaux and Paris.
'Lola and his brothers (Lola et ses frères)' is the fourth feature film directed by Jean-Paul Rouve after 'Sans arme, ni haine, ni violence' (2008), 'Quand je serai petit' (2012) and "Les Souvenirs" (2015). This is also the second film he wrote with David Foenkinos after "The Memories(Les Souvenirs)".
Just after the release of his previous production, Jean-Paul Rouve left with David Foenkinos for a few days in Brussels. The two men did not want to be in Paris or in the sun. They preferred to spend time in the Belgian capital, more conducive to writing a story centered on the "real life" according to them.