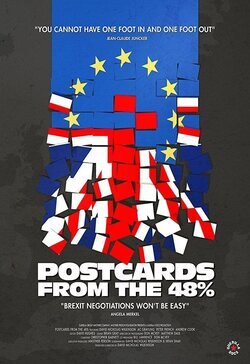 Info
Year: 2018
Original Title: Postcards from the 48%
Country: UK
Length: 110 minutes
Genre: Documentary
Studios:
Universal
View trailer
Release Dates
United Kingdom: July 06 2018
United States:
Ranking
Ranking: 2,644 out of 14,049 movies (up 894)
Plot
On June 23, 2016, 52% of the inhabitants of the United Kingdom voted in favor of leaving the European Union against another 48% that remained firm about the permanence. Although both sides were widely accused of relying on information ranging from crudely distorted lies to outright lies, none of the parties presented precise information that should have been available and thoroughly explored in addressing such a momentous choice for the future of United Kingdom and the European Union. 'Postcards From the 48%' is a documentary film aimed at all those who voted for permanence, to demonstrate to the rest of the 27 countries of the Union that the result was far from overwhelming and that the United Kingdom is still fighting for permanence .
Director
Videos
Photos
Recommended