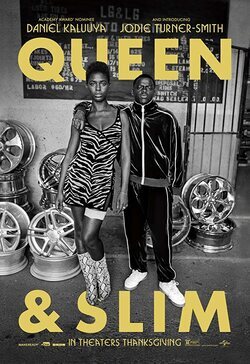 Write a review
Release Dates
United Kingdom: January 31 2020
United States: November 27 2019
Ranking
Ranking: 2,345 out of 16,407 movies (up 2634)
Plot
An African-American man and woman have their first date after months of her turning down his offers. After spending the evening together, he starts to drive her home in his car, though the end to their first date is quickly derailed when a police officer pulls them over upon seeing that one of the lights at the back of the car is out. The guy acknowledges and apologises for the mistake, but the police officer does not seem satisfied by his answer and orders him to get out of the car. The situation intensifies when the police officer pulls out his gun and points to the woman when he sees her taking out her cellphone to record what is happening. The officer shoots, but the bullet is prevented from hitting the woman when the other man leaps on him, shooting the officer in the confused struggle. Terrified in the aftermath of this situation, the couple flees. Soon they discover the press is against them; their faces are on every newspaper's cover and people start recognizing them. There are no other options: they have to get out of there. The two of them seek a shelter in a different locale, where the African-American community takes them in, dubbing them "the African-American Bonnie & Clyde". Within the community, they can go unseen without really being hidden and slowly, the two begin to fall in love. 'Queen & Slim' is the feature-length directorial debut of Melina Matsoukas, known for directing music videos and TV shows episodes. Daniel Kaluuya ('Black Panther', 'Get Out'), Jodie Turner-Smith ('Nightflyers', 'Jett'), Benito Martinez ('13 Reasons Why', 'The Blacklist') and Indya Moore ('Pose') star.
Director
Cast Queen & Slim
Videos
Photos
Trivia Queen & Slim
'Queen & Slim' is Jodie Turner-Smith's first movie.
First feature film to be directed by Melina Matsoukas, who has previously only directed music videos and TV episodes.
The two main characters are never referred to as "Queen" or "Slim". In fact, including their interactions with each other and other characters, the only times they are referred to by name are in news reports covering the manhunt for them.