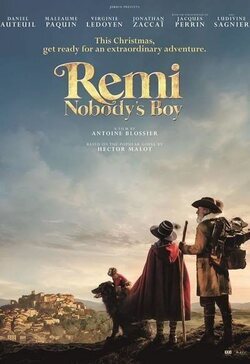 Write a review
Ranking
Ranking: 1,521 out of 16,241 movies (up 921)
Plot
Rémi is a boy who was brought from the street by the sweet Madame Barberin when he was very little. Rémi lives happy and unworried in a small town. At the age of 10, Rémi is taken from the arms and the house of his foster mother by a man. This man takes him to the big city to deliver him to the orphanage. Rémi ends up running through the streets of the big city in order to not be captured. Finally, Rémi is captured and attracts the attention of a man who wants to make a deal: to rent the child. This man is Vitalis, a mysterious itinerant musician that is always passing from city to city without a home. Vitalis buys clothes to the boy so then it matches his. Vitalis is not alone. He is always with his dog called Capi and a little monkey called Lovely Heart. The four of them will travel from city to city to do their little show so they can eat. In a determined moment, Vitalis gets clean with the boy: he has rented him because he wants him to sing in public. Rémi becomes friends with a girl in a wheelchair. This girl will tell him that her parents have found his and Rémi and Vitalis will start an adventure to know the roots of the boy. The movie is based on the classic novel of Hector Malot. It is directed by by Antoine Bloisser and starred by Daniel Auteuil, Maleaume Paquin, Virginie Ledoyen and Jonathan Zaccai.
Director
Cast Remi, Nobody's Boy
Videos
Photos
Reviews Remi, Nobody's Boy
Trivia Remi, Nobody's Boy
Maleaume Paquin, the boy who plays Rémi enfant, is the fifteenth child Antoine Blossier met during the casting. In all, the director saw close to four hundred other children before deciding.
The sequence of the storm in England was shot in the studio for three days. It was a complicated scene to settle.
Darkness, the Border Collie who plays Capi, is a true circus dog: he is used to doing the numbers he performs in the film in street performances and has a strong complicity with his master.