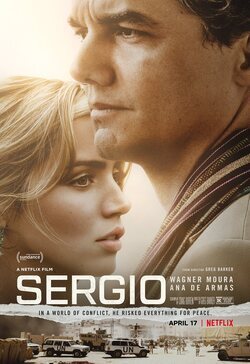 Write a review
Release Dates
United Kingdom: April 17 2020
United States: April 17 2020
Ranking
Ranking: 1,763 out of 16,089 movies (up 1128)
...
Be the first to score this movie!
Plot
Charismatic, idealistic, determined, humanitarian. Sergio Vieira de Mello has spent most of his profesional life working for United Nations, traveling to the most unstable regions of the world to negotiate with revolutionaries, presidents, war criminals,... His goal is to help the humble people that live in those places that have no one to protect them. Sergio was ready to settle with his family: his children and Carolina, the woman he loves, and stop putting himself in deadly risk. He is assigned one last job: to go to Bagdad. This territory has become one of the most dangerous places in the world with the recent US military occupation. Sergio has been in this kind of situation before, but this time he would not be able to avoid being in the center of the conflict. A bomb explotes in the hotel Sergio is staying in. The walls crumbled on top of the diplomatic, leaving him bury in rocks. His life will be in great danger while he waits to be rescued. 'Sergio' is based in a real-life story about the humanitarian work of Sergio de Mello and the bombing of the Canal Hotel. This drama is directed by Greg Baker ('Manhunt') and starring Wagner Moura ('Narcos') and Ana de Armas ('Knives Out'). This film premieres worldwide the April 17th 2020 on Netflix.
Director
Cast Sergio
Videos
Photos
Trivia Sergio
The director Greg Barker has made many documentaries about the US politics like 'Manhunt' or 'The Final Year'. The story in which this film is made was already made by him into a documentary: 'Sergio' for HBO in 2009.
The script for 'Sergio' is based on the book 'Chasing the Flame: Sergio Vieira de Mello and the Fight to Save the World' by Samantha Power. Power won a Pulitzer in 2003. She was a consultant in this film.
Ana de Armas was Barker's fist option to play Carolina. Before trying to contact her, another member of the cast, Clemens Schick told him he was friends with her. So, it was Schick the one that show 'Sergio' script to de Armas.