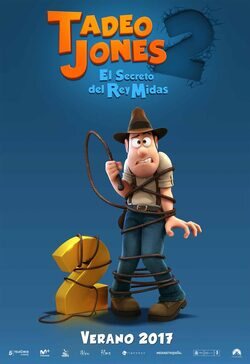 Write a review
Release Dates
United Kingdom: February 09 2018
Ranking
Ranking: 1,278 out of 15,425 movies (up 125)
Plot
Tadeo Jones returns to the charge! After discovering the lost city of Paititi and having protected the legendary Inca treasure of an evil criminal enterprise, Tadeo, Sara, Jeff and Belzoni are ready to take on a new adventure. On this occasion, Tadeo and his team of inseparable companions will embark on the search for the gold necklace of King Midas, participating in a countercurrent adventure to prevent the evil Jack Rackham and his followers are done with the legendary piece. Sara will discover the first of the three pieces that make up the necklace of King Midas and Rackman will not hesitate to kidnap her and launch himself in search of this longed for treasure. Tadeo, along with Mummy, his dog Jeff, the parrot Belzoni and a host of new and funny characters, will launch to a new adventure to rescue Sara and discover the secrets of King Midas treasure, embarking on a journey that will take them By Spain, Las Vegas, Greece and Turkey. After 'The Adventures of Tadeo Jones', the Goya winner Enrique Gato with the director David Alonso returns to put behind the direction in this continuation of which is the Spanish box office animated film more of the history of the Spanish cinema, having collected a Total of more than 45 million euros. Telecinco Cinema, with the participation of Movistar Plus, LightBox Entertaiment and IkiruFilms, brings us this new adventure that recounts the voices of Michelle Jenner as Sara and Oscar Barberán as Tadeo, as well as the incorporation of new voices such as that of Adriana Ugarte and Counting again with the winning writers of Goya Jordi Gasull, Javier Barreira and Neil Landau. Zacarias M. de la Riva is in charge of composing the score of the film, while David Bisbal along the protagonist of 'Violetta' Tini Stoessel are responsible for giving voice to the main theme of the movie 'Everything is possible'. Hide full plot... Show full plot
Awards
Premios
Año
Nominaciones
Premios ganados
Goya Awards

2018
1
1
Directors
Videos
Photos
Reviews Tad Jones and the Secret of King Midas
Trivia Tad Jones and the Secret of King Midas
Part of the plot of 'Tadeo Jones 2: The Secret of King Midas' takes place in Granada. Those responsible for the film recreated the scenarios of the Andalusian city milimetrically without even having to move from the studio thanks to the technology that nowadays allow platforms like Google Maps.
Despite of Tadeo is a spanish character, in the movie he lives in Chicago. In Tad Jones and the Secret of King Midas we will she him in Spain for the first time. Specifically, Tadeo will visit the city of Granada.
A joke was removed from the film because its directors considered it politically incorrect. This took place right after the scene of the persecution on Granada, it involved the taxi driver granadino and it happened of the following form: After finishing the chase, instead of getting away, the protagonists have to face the villain Rackham and his vile henchmen, who are mounted on a quad. At one point, the taxi driver calls his gypsy cousins and they dismantle the quad of the villains without being noticed.