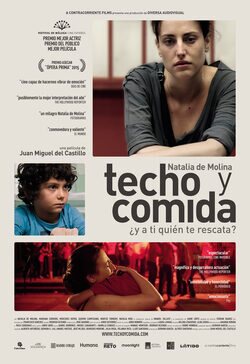 Write a review
Ranking
Ranking: 4,543 out of 15,984 movies (up 801)
Plot
'Techo y comida' tells the story of Rocio (Natalia de Molina) a single mother who is going through really serious economic difficulties. Although she has no job and barely has enough money to eat, she hides the seriousness of their situation to avoid embarrassment at all costs and to keep the custody of her eight year old son Adrian (Jaime Lopez). Both survive thanks to the generosity of a neighbor, María (Mariana Cordero), who provides them her help without a second thought. Then, when they thought things could not get worse, the owner of the apartment where they lives, also burdened with a money problem, decides to report Rocío for not paying the rent. Juan Miguel del Castillo writes and directs this film which also features Mercedes Hoyos, Gaspar Campuzano and Natalia Roig.
Awards
Premios
Año
Nominaciones
Premios ganados
Goya Awards

2016
3
1
Feroz Awards

2016
2
-
Director
Cast Techo y comida
Videos
Photos
Trivia Techo y comida
'Techo y comida' is financed through a crowdfunding campaign.
The director Juan Miguel del Castillo thought about shooting 'Techo y comida' when in 2012 he watched in a television interview, an old neighbor who lived alone with two children without any help and on the verge of eviction.
It is based at a legal level on a real case happened in Torrejón de Ardoz in 2011 .