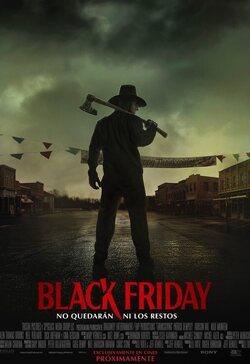 Title: Thanksgiving
Original Title: Thanksgiving
Year: 2023
Info
Release Dates
UK: November 17 2023
United States: November 17 2023
Plot
Eli Roth directs this new movie about the assassin from her fake trailer for 'Grindhouse'. When caos starts during Black Friday in Playmouth, Massachusetts, the day will end in tragedy. A mysterious murderer based on the American festivity of Thanksgiving will start his murder run on the small town.
Plymouth is the place of birth of this pre-Christmas party and
it's also the objetive of Roth's new killer
. An unwanted guest wants this Black Friday to be the blackest Friday of all Plymouth's residents lives.
The cast includes Patrick Dempsey, Addison Rae, Milo Manheim, Rick Hoffman, Gina Gershon, Karen Cliche, Nell Verlaque and Shailyn Griffin, among others. The biggest sales of all year will end in a bloody murder where "there will be no leftovers". The director of 'Hostel' and 'Cabin Fever' puts the victims on sale on his new movie.
While the characters run to buy Christmas presents at the lowest price, the killer won't pass through the crowd that is convoked by this capitalist party. This production has its origin in one of the fictional trailers that were presented in Grindhouse's double feature. The director Eli Roth with 'Planet Terror' and Quentin Tarantino with 'Death Proof' made the presentation together in 2007. '
'Thanksgiving' follows the example of 'Machete', which also ended up turning into a movie, after being presented as a short film.
Listings
'Thanksgiving' is showing in 7 today, including:
Cast
Director:
Eli Roth
Videos
2:39
Photos
Trivia
Location
The fake trailer for Grindhouse was filmed in Prague in 2006. Meanwhile, this movie has been filmed in Massachusetts.
Horror collaborations
This is Eli Roth and Rick Hoffman's first collaboration since 'Hostel' in year 2005.
Director's words
In an interview of Eli Roth with Total Film, the director said that this movie is not supposed to be the movie that the Grindhouse trailer presented: "We said, 'Let's pretend Thanksgiving was a movie from 1980 that was so offensive that every print was destroyed. All the scripts were burned. The director disappeared. The crew members changed their names. One person saved the trailer and uploaded it to the darkest corners of 4chan, and now it's made it out. So this is a 2023 reboot.' Once we said that, it freed us up."
Recommended movies and tv shows Thanksgiving