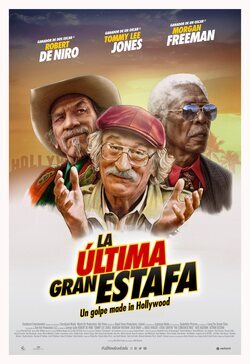 Write a review
Ranking
Ranking: 1,121 out of 16,397 movies (up 312)
Plot
A greedy B-series Hollywood film producer, Max Barber (Robert de Niro), has ended up in debt to a local mafia boss (Morgan Freeman) following the failure of his latest film. He urgently needs to find a new project that will help him return everything he owes. Max plans a fraud: he will undertake the production of a movie with high-risk scenes with the aim of causing the death of its main actor. This way he will collect the insurance money and definitely solve his economic problems. Duke Montana (Tommy Lee Jones), an old depressed star who has given himself to drinking, will be the perfect target for play the leading role of Max's trap. Immersed in the filming, the days go by and although Max is subjecting Duke to increasingly dangerous challenges, he fails to complete his plan. Paradoxically, while Duke is surviving scene after scene to Max's high-risk propositions, he is unconsciously shooting the movie of his career. 'The Comeback Trail' is a remake of the movie of the same name directed by Harry Hurwitz in 1982. This new version is directed by George Gallo ('My Mom's New Boyfriend', 'Bigger') and starring Robert de Niro ('The Irishman'), Tommy Lee Jones ('Men in Black'), Morgan Freeman ('Million Dollar Baby'), Zach Braff ('Scrubs'), Eddie Griffin ('A Star Is Born') and Emile Hirsch ('Once Upon a Time in Hollywood').
Director
Cast The Comeback Trail
Photos
Reviews The Comeback Trail
Trivia The Comeback Trail
George Gallo and Robert de Niro previously worked together on 'Midnight Run', directed by Martin Brest in 1988. The film was written by Gallo and starring De Niro with Charles Grodin.
Robert De Niro previously worked with Morgan Freeman on 'Last Vegas' (2013) and with Tommy Lee Jones on 'The Family' (2013). In addition, Tommy Lee Jones previously co-starred with Morgan Freeman 'Just Getting Started' (2017).