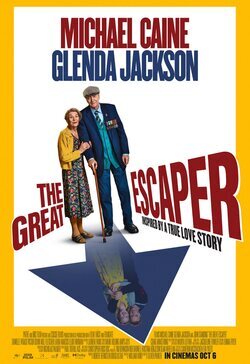 Title: The Great Escaper
Original Title: The Great Escaper
Year: 2023
Info
Release Dates
Plot
'The Great Escaper' is a British biographical drama written by Oliver Parker and directed by William Ivory. It is based in the real story of Bernard Jordan, a retired veteran who fought on World War II and, at his 89 years of age, "escaped" his retirement home where he was living to travel to France, and attend the celebrations of the 70th anniversary of D-Day. It stars Michael Caine and Glenda Jackson, in the last film of the actress before dying.
Bernard Jordan (Caine) and Irene (Jackson) have been married for sixty years and they now live together in a retirement home. When Jordan finds out it's going to be the 70th anniversary of World Ward II D-Day, he decides to
escape his retirement home and travel alone to Normandy, in France
. 'The Great Escaper' not only explores the adventures of a ninety year-old man, but his necessity to
confront his long lasting traumas
after fighting on a war, as well as celebrate a livelong of long alongside the same woman.
The cast is completed with Will Fletcher and Laura Marcus as the young Bernard and Irene, as well as John Standing, Jackie Clune, Danielle Vitalis, Brennan Reece and Wolf Kahler.
It is not the last film about this subject, because around the same event is being shot 'The Last Rifleman', starring Pierce Brosnan.
Listings
'The Great Escaper' is showing in 22 today, including:
Cast
Director:
Ol Parker
Photos
Trivia
Caine and Jackson reunite onscreen 47 years later
It is the second film in which Michael Cane and Glenda Jackson appear together. The other one was 'The Romantic Englishwoman' in 1975, 47 years earlier.
The film used by Michael Cane to announce his retirement
During the movie première in London in September 2023, Michael Cane declared he was retiring because "I am bloody 90 now, and I can't walk properly and all that. I soft of am retired now". However, it won't be his last film because he will start shooting in 2024 a new film about Charles Darwing.
Shot entirely in the UK
Although the story is also set in France, the film was entirely shot in the UK to avoid COVID risks and minimize travel due to the cast old age: Caine was 89 years old and Jackson 86 when shooting the film.
Recommended movies and tv shows The Great Escaper