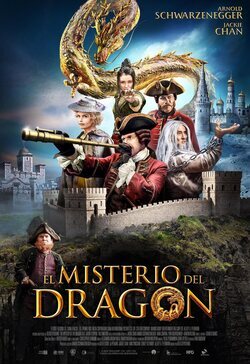 Write a review
Release Dates
United Kingdom: April 10 2020
Ranking
Ranking: 470 out of 15,984 movies (up 366)
Plot
Jonathan Green, an intrepid English mapmaker that is always looking for his next adventures, receives a commission to create a map charting the furthest part of Russia. Over the course of his long journey, Jonathan stumbles into several unusual adventures, from bizarre conflicts with strange creatures and battles with maestros of martial arts to thousand-year-old witches hidden in the most unusual corners of the legendary China. Nevertheless, all of these tests will seem like a child's play when he realises that he must face one of the biggest enemies that the dark magic has ever created, the great "King of the Dragons". The movies adapts three landmark legends from both European and Asian popular culture: the kingdom of Peter the Great, the curse of the tea way and the legend of the iron mask. 'The Mystery of the Dragon Seal' is directed by Oleg Stephenko ('Viy', 'Muzhskoy sezon. Barkhatnaya revolyutsiya') and stars Jason Flemyng ('The Curious Case of Benjamin Button', 'A Christmas Carol'), Arnold Schwarzenegger ('Terminator', 'Killing Gunther'), Jackie Chan ('Rush Hour', 'Shen tan Pu Song Ling'), Rutger Hauer ('Blade Runner', 'Mariette in Ecstasy'), Charles Dance ('Game of Thrones', 'The Crown') and Anna Churina ('Mantikora', 'Love Made Easy'). Hide full plot... Show full plot
Director
Cast The Iron Mask
Videos
Photos
Trivia The Iron Mask
Despite the fact that the Russian original 'Viy' (2014) went direct-to-DVD in most countries, the movie was the highest grossing movie in Russia of 2014, paving the way for this sequel and the casting of international stars such as Arnold Schwarzenegger, Jackie Chan, and Rutger Hauer.
Arnold Schwarzenegger and Jackie Chan appeared in Around the World in 80 Days (2004).
Arnold Schwarzenegger and Charles Dance appeared in Last Action Hero (1993).