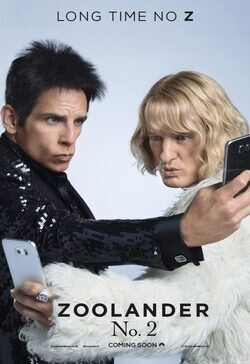 Write a review
Release Dates
United Kingdom: February 12 2016
United States: February 12 2016
Plot
'Zoolander 2' is the sequel to the 2001 film 'Zoolander', a controversial film based on the fashion world directed by and starring Ben Stiller ('The secret life of Walter Mitty', 'Night at the Museum' and 'Meet the Parents'), Owen Wilson ('The Grand Budapest Hotel' and 'The Internship') and Penélope Cruz. The beginning of the movie is set 10 years later and Derek and Hansel have fallen out of favor as the fashion world has moved on without them. Nobody even knows who they are, so they have to reinvent themselves so they could fit in this new world of fashion. After a series of murders of the greatest celebrities of the year, a Secret Organization will get in touch with Derek regarding all these murders because each and everyone of this public celebs have something in common: they all have the "blue steel" on their faces before they die. 'Zoolander 2' tells the story of these two forgotten starts who will fight to recover the world of fame and money that one day they had while they travel through Europe while they're helping the secret organization to catch the murderers. 'Zoolander 2' is scheduled to be released on February 12, 2016 by Paramount Pictures.
Awards
Premios
Año
Nominaciones
Premios ganados
Razzie Awards

2017
8
-
Director
Cast Zoolander 2
Videos
Photos
Trivia Zoolander 2
The announcement for the movie came from a fashion show where Stiller and Wilson walked down the runway, in character, as Zoolander and Hansel.
Eddie Murphy has expressed interest in being in Zoolander 2. He has even developed his own pose called "Black Iron".
Ben Stiller said in an interview that it will take place 10 years since the last one.