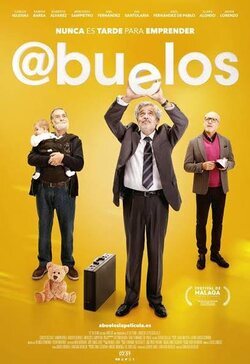 Write a review
Ranking
Ranking: 1,471 out of 16,237 movies (up 1285)
Plot
It is the first movie of Santiago Requejo. 'Grandfathers' tells the story of Isidro Hernández, a nearly 60 year old man who hasn't had a job in two years. Despise of going to different job interviews, the companies are looking for young people with skills that he doesn't have. His family encourages him to continue in his pursue, but he is tired and a little bit depressed. However, there still is one thing left, his role as a grandfather. In the playground, along his friends Desiderio, a retired man who wants to become a grandfather, and Arturo, a successful romance writer, Isidro will have an idea which could take him out of his own and particular hole: set up a nursery. For that, they will take some classes about what is to start from zero and they will learn different tricks to be successful in this new adventure full of challenges, technology and young people who want to conquer the world. The movie is starred by Carlos Iglesias ('2 Francs, 40 Pesetas', 'B&b, de boca en boca'), Ramón Barea ('The Little Switzerland', 'Advantages of Travelling by Train'), Roberto Álvarez ('Servir y proteger', 'Estirpe'), Mercedes Sampietro ('Fugitiva', 'The Furies'), Ana Fernández ('Brigada Costa del Sol', 'The Bride') and Eva Santolaria ('Sé quién eres', 'Cites'), among others.
Cast Grandfathers
Photos
Trivia Grandfathers
This is the first film of Santiago Requejo. He has a past in short films and video for social media, which sum up more than 250 million reproductions.
There is a cameo of executive producer, Tono Escudero.