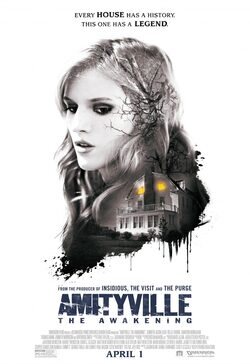 Write a review
Release Dates
United States: October 28 2017
Plot
Director
Cast Amityville: The Awakening
Videos
Photos
Reviews Amityville: The Awakening
Trivia Amityville: The Awakening
The original plan for this reboot was "Amityville: The Lost Tapes." Written by Casey La Scala and Daniel Farrands and utilizing the found footage angle, the plot involved "an ambitious female television news intern, on the verge of breaking the most famous haunted house case in the world, who leads a team of journalists, clergymen and paranormal researchers into an investigation of the bizarre events that will come to be known as The Amityville Horror, only to unwittingly open a door to the unreal that she may never be able to close." After a couple of delays, this concept was eventually scrapped.
Will be the first theatrically released Amityville film since The Amityville Horror (2005) remake 12 years prior.
This movie was originally rated R but after it was re-edited and sent back to the MPAA, they gave it a PG-13.