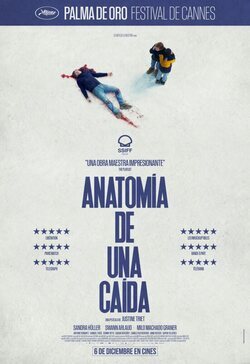 Title: Anatomy of a Fall
Original Title: Anatomie d'une chute
Year: 2023
Info
Country:

France

Language: French English
Length: 150 Minutes (2 hours 30 min)
Studios: Elastica Films
Distributor: Elastica Films
Age rating: 15 (Suitable only for 15 years and over)
Release Dates
UK: November 10 2023
United States: October 13 2023
Plot
Sandra and Samuel live with their little 11-year-old son named Daniel in a place quite far from the town, in the mountains, where not many people have access. Their life was normal until a fateful event changed their reality quickly and forever. Samuel appears dead at the foot of the family home. What happened brings to their doors an investigation into a suspicious death.
After several attempts by justice to find the murderer, Sandra appears as the main suspect. The ambiguity of the case regarding the question of whether it was
a suicide or a homicide
does not stop the investigators from quickly
involving Sandra.
The film takes a trip back in time and takes place a year after the events. There the trial for Samuel's death will take place, where his grown son Daniel will be present. The court event will be a true dissection of the couple.
The direction and script of this thriller is by Justine Triet. The cast of this drama is Sandra Hüller, Swann Arlaud, Milo Machado Graner, Antoine Reinartz, Samuel Theis.
The film was presented at several festivals, including the Cannes Film Festival, where it was awarded the Palme d'Or, and the San Sebastián International Film Festival.
Cast
Director:
Justine Triet
Videos
2:08
Photos
Recommended movies and tv shows Anatomy of a Fall