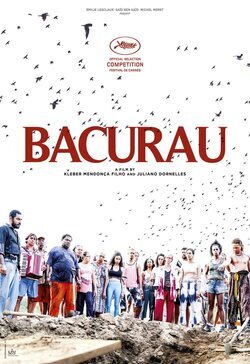 Write a review
Release Dates
United Kingdom: March 13 2020
United States: March 06 2020
Ranking
Ranking: 3,004 out of 16,089 movies (up 712)
Plot
In a not distant future, Bacurau, a rural village in Brazil, suffers the lost of its matriarch, a 94 years old woman called Carmelita, when she passes away. Teresa, her granddaughter, comes back to attend the funeral. She soon realizes that the pain of the village is not just for the dead of her grandmother. The water supply is damaged and mobile signal is fading. Bacurau is disappearing from any map. An unknown enemy is trying to hurt the village and its people must face him to survive. Kleber Mendonça Filho ('Aquarius', 'O Som ao Redor') works with Juliano Dornelles ('O Ateliê da Rua do Brum') to direct and write the script of 'Bacurau'. In this modern western, the strange and what is real mix up in a different kind of action story. The movie is starred by Bárbara Colen ('Aquarium', 'Baixo Centro'), Udo Kier ('Blade', 'Downsizing'), Thomas Aquino ('3%', 'Treze Dias Longe do Sol'), Silvero Pererira ('A Força do Querer'), Thardelly Lima, Rubens Santos ('Divino Amor'), Wilson Rabelo ('Sol Nascente') y Karine Teles ('Que Horas Ela Volta?'). 'Bacurau has won several awards. Among these accolades it got Jury Prize 2019 in Cannes Film Festival, Best Director in Lima Latin American Film Festival and Best International Film in Munich Film Festival and the Prize of Montréal Festival of New Cinema. It also succeded in Sitges where it won Best Picture and Director.
Directors
Cast Bacurau
Videos
Photos
Trivia Bacurau
Bacurau is the portuguese name for nightjar, iconic bird with nocturnal habits, very common in southeast Brazil.
Bacurau is a fictional place. It was actually shot in the small village of Barra, near the city of Parelhas, in Rio Grande do Norte, a community with 80 inhabitants. Most of who worked in the production, as extras and as part of the crew. A year after filming wrapped, the filmmakers held a special screening of the film there and almost three thousand people showed up.
Udo Kier, one of the film's actors, cried at a premiere for the first time in his 50-year career during the great day of 'Bacurau' in Cannes. He said it wasn't just for the movie itself, but for the whole experience of recording it.