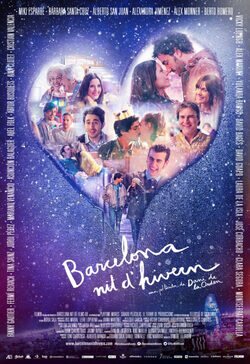 Write a review
Ranking
Ranking: 3,404 out of 16,357 movies (up 962)
Plot
In 2013, Dani de la Orden made his debut as director with a film made of love stories with the city of Barcelona and the same Summer night as scenery. 'Barcelona, nit d'estiu' continues now with 'Barcelona, nit d'hivern', a sequel that happens this time in a Christmas night, again in Barcelona. Dani de la Orden is back as director, and the cast is filled with familiar faces: Alexandra Jiménez, Àlex Maruny, Aina Clotet, Alberto San Juan, Miki Esparbé, Bárbara Santa-Cruz, Berto Romero, Yolanda Ramos, Bernat Saumell, Àlex Monner, Asunción Balaguer, Clara Segura and more. Among the stories that make 'Barcelona, nit d'hivern' we meet King Melchor's first love at the Kings' Parade, two close friends that aim to the same girl's heart, a romantic guy who is tired of getting his heart broken, an 81 year old woman who tells her family she's in love with her best fried... The only ones who come back from 'Barcelona, nit d'estiu' are Carles and Laura (Miki Esparbé and Bárbara Santa-Cruz). They are parents now, but the situation is more complicated than they thought. 'Barcelona, nit d'hivern' has again original music by Joan Dausà.
Director
Cast Barcelona Christmas Night
Photos
Reviews Barcelona Christmas Night
Trivia Barcelona Christmas Night
'Barcelona, nit d'estiu' sequel. This film is also directed by Dani de la Orden
The film was going to be named 'Barcelona, King's Night', but it was decided to continue with the names of the seasons.
This sequel is a countpart, because the first film is shot in summer time.