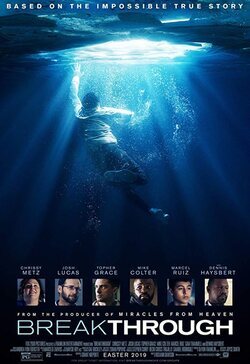 Write a review
Release Dates
United Kingdom: May 17 2019
United States: April 17 2019
Ranking
Ranking: 847 out of 16,123 movies (up 504)
Plot
John Smith (Marcel Ruiz) is a 14-year-old boy adopted from Guatemala and raised in Missouri by Brian (Josh Lucas) and Joyce Smith (Chrissy Metz). Though his parents are loving and attentive, John's lingering resentment of being abandoned by his birth parents causes him to lash out as he grows older. One day, John and his best friends Josh (Isaac Kragten) and Reiger (Nikolas Dukic) go to their local lake, which has frozen over. When the boys don't listen to a local resident's warning to get off of the ice in case it cracks, the resident calls the police just as the ice breaks and the three boys fall into the freezing water. When the police arrives, Josh and Reiger are responsive but John has no pulse. He's taken to the hospital for critical surgery and his mother is given the chance to say goodbye. As Joyce holds her son in her arms, John's pulse begins again. As John is transferred to another hospital, Joyce becomes increasingly convinced that her son's survival was an act of God, and she grows closer to the liberal clergyman, Pastor Jason Noble (Topher Grace), of the local church that she'd previously disliked. Based on true events as told in the biography of Joyce Smith, 'Breakthrough' is directed by Roxann Dawson and was adapted for the screen by Grant Nieporte.
Awards
Premios
Año
Nominaciones
Premios ganados
Academy Awards (Oscars)

2020
1
-
Director
Cast Breakthrough
Videos
Photos
Trivia Breakthrough
'Breakthrough is the film debut of director Roxann Dawson. Until this moment, she has been directed tv series as 'House of Cards' and 'S.H.I.E.L.D Agents'.
The film is based on the Joyce Smith's novel 'The Impossible: The Miraculous Story of a Mother's Faith and Her Child's Resurrection' (2017).
Roxann Dawson's film is also based on incredible real facts that actually happens in Lake St. Louis: a 14-years-old teenager drowned and he was dead for almost an hour. The doctors told he was dead but his mother came into the room, prayed for his life and suddenly the kid breathed again.