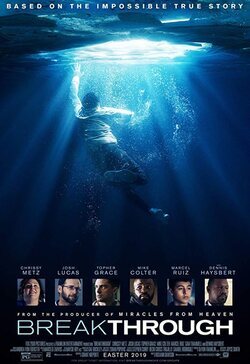 Write a review
Release Dates
United Kingdom: May 17 2019
United States: April 17 2019
Ranking
Ranking: 1,034 out of 15,288 movies (up 443)
8.0 by Movie'n'co
6.0 by 3 media
Plot
A film directed by Roxann Dawson based on real facts: when he was 14 years old, Smith was playing over an icy lake when suddenly ice broke. The teenager drowned in Lake St. Louis and he was dead along an hour. According to the inform of the moment, they do pulmonary cardiopulmonary resuscitation (PCR) during 27 minutes without any result. Then Smith's mother, Joyce Smith, comes to the hospital and pray out loud for his life. Suddenly, the teenager recover the pulse and he come back to life. Joyce is assured that the fact was God's work and none medical explanation convince her. The film cast is made up of Chrissy Metz como Joyce Smith, Topher Grace, Mike Colter, Josh Lucas, Marcel Ruiz, Rebecca Staab, Alissa Skovbye, Lisa Durupt, Isaac Kragten y Nikolas Dukic.
Director
Cast Breakthrough
Videos
Photos
Trivia Breakthrough
'Breakthrough is the film debut of director Roxann Dawson. Until this moment, she has been directed tv series as 'House of Cards' and 'S.H.I.E.L.D Agents'.
The film is based on the Joyce Smith's novel 'The Impossible: The Miraculous Story of a Mother's Faith and Her Child's Resurrection' (2017).
Roxann Dawson's film is also based on incredible real facts that actually happens in Lake St. Louis: a 14-years-old teenager drowned and he was dead for almost an hour. The doctors told he was dead but his mother came into the room, prayed for his life and suddenly the kid breathed again.