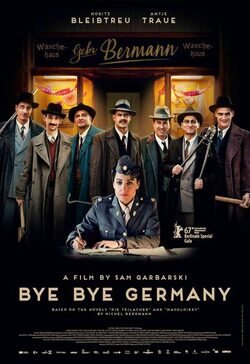 Write a review
Ranking
Ranking: 8,826 out of 16,013 movies (up 2111)
Plot
After going through the horrors of the Holocaust, the main character of the movie 'Bye Bye Germany' David (Moritz Bleibtreu), will set up a new linen business with some of the inmates that were with him in the concentration camps. Their aim is to raise enough money to be able to emigrate to America and start over, but they aren't making it quick enough. He starts to exploit the guilt of his german customers and getting them to give him more money. Everything seems to be going according to plan but there is a police officer from the U.S. that starts to ask him some awkward questions from his past in the concentration camps and in the war. She believes he might have been collaborating with the Nazis.
Director
Cast Bye Bye Germany
Videos
Photos
Trivia Bye Bye Germany
The art department couldn't use any foam concrete for the sets, for it wasn't invented back in 1946. They couldn't use wood either, as it has already been fueled during the hard winter 1945.
Within one scene David Bermann (Moritz Bleibtreu) and his friends destroy the red Plymouth of their opponent. The actors really crashed the car with battens, picks and iron rods - and enjoyed it a lot. Actor Tim Seyfi described it: "For us it was a children's birthday party."
Bye Bye Germany is based upon the first novel by Michel Bergmann, 'The Travelling Salesmen'. Bergmann is also a co-screenwriter for the film.