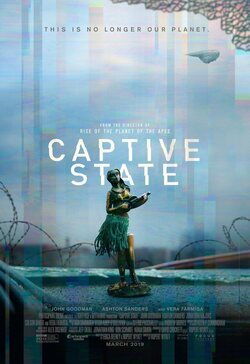 Release Dates
United States: March 29 2019
Ranking
Ranking: 183 out of 14,956 movies (up 58)
Plot
'Captive State' is an original science fiction story set in a Chicago neighborhood a decade after the extraterrestrial occupation in which it joins this authoritarian society. The film explores both perspectives of the conflict: those who decided to collaborate with the newly arrived aliens and the dissidents who faced the invasion. A film that exploits the techniques of cinematographic language as a way to create a science fiction scenario that sheds light on the state of surveillance in which we find ourselves, the threats to civil liberties and the role of dissidence within an authoritarian society. A utopia, ironic and spatial. Rupert Wyatt ('The Origin of the Planet of the Apes') and John Goodman have come together to produce 'Captive State' with a guide created with Wyatt's screenwriter and wife, Erica Beeney.
Director
Cast Captive State
Videos
Photos
Trivia Captive State
Rupert Wyatt left the filming of 'Gambit' (2019) to make this movie.
John Goodman and Kevin Dunn have starred in several Transformers films, but have not appeared together in any of them.