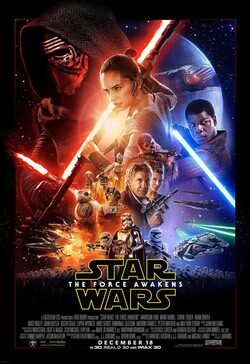 Write a review
Release Dates
United Kingdom: December 18 2015
United States: December 18 2015
Plot
First installment of the trilogy announced by The Walt Disney Company after acquiring the rights to the franchise (owned by Lucasfilm Ltd. until 2012). George Lucas, creator of the series, both in this Episodo has worked as consulting creative. J.J. Abrams takes the lead in 'Star Wars: Episode VII: The Force Awakens'; in addition to direct the film, the creator of 'Lost' signs the screenplay alongside veteran Lawrence Kasdan, one of the people who know more the universe and the characters of this saga. In this installment we'll reunite with former members of the original cast (Harrison Ford, Carrie Fisher and Mark Hamill) and we'll meet new faces, like John Boyega or Daisy Ridley. 'Star Wars: The Force Awakens' takes place approximately 30 years after the events of 'Star Wars: The Return of the Jedi'. This time we'll meet three new main characters: a young woman named Riley, a man named Finn and a pilot whose name is Poe Dameron. The three of them will be important pieces of the new battle between good and evil, in the form of the Resistance and the First Order.
Awards
Premios
Año
Nominaciones
Premios ganados
Academy Awards (Oscars)

2016
5
-
BAFTA Awards

2016
5
1
Director
Cast Star Wars: Episode VII - The Force Awakens
Videos
Photos
Reviews Star Wars: Episode VII - The Force Awakens
Trivia Star Wars: Episode VII - The Force Awakens
Harrison Ford broke his ankle while shooting the movie in the Millenium Falcon. And a year later, J.J. Abrams revealed that he broke his back while trying to help his actor out.
Once he was cast as Poe Dameron in the movie, Oscar Isaac told J.J. Abrams that his uncle was a huge fan of 'Star Wars'. As a result, he received an invitation to visit the set and Abrams asked him if he wanted to appear as an extra in the film, obviously he accepted immediately.
Hugo Weaving and Michael Fassbender were considered to play Kylo Ren, one of the villains of the movie, and that role finally went to Adam Driver.