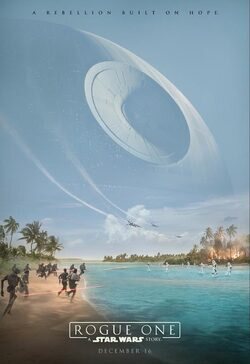 Write a review
Release Dates
United Kingdom: December 15 2016
United States: December 15 2016
Plot
'Star Wars: Rogue One', film encompassed with the label 'Anthology'. It is the first spin-off of the 'Star Wars' saga. Gareth Edwards ('Godzilla' and 'Monsters') directs Felicity Jones in this film that tells a war story set between 'Episode III - Revenge of the Sith' and 'Episode IV - A New Hope', when a group of rebel soldiers are given the mission to steal the plans for the Death Star. In front of the Rebel Alliance, Jones plays Jyn Erso, the firm commander of a rebellion that face those who support their cause against the Empire. At first, Erso must reach the main headquarters of Yavin IV rebellion, a rather familiar space that reminds us of both the original trilogy and the headquarters of the new Resistance, seen in 'Star Wars: The Force Awakens', as he read charges which accuse him, including forgery of imperial documents, assault and theft. The actress known for her performances in films such as 'A True Story' and 'The Theory of Everything' landed the lead role after dawn in a casting through which passed Tatiana Maslany ('Orphan Black') or Rooney Mara ('Men They Hate Women'). Next to this the film actress starring Diego Luna, Riz Ahmed, Forest Whitaker, Ben Mendelsohn, Alan Tudyk, Jiang Wen and Mads Mikkelsen.The script was written by Chris Weitz ('About a Boy').
Awards
Premios
Año
Nominaciones
Premios ganados
Academy Awards (Oscars)

2017
2
-
BAFTA Awards

2017
2
-
Director
Cast Rogue One: A Star Wars Story
Videos
Photos
Reviews Rogue One: A Star Wars Story
Trivia Rogue One: A Star Wars Story
James Earl Jones, the actor known as the voice of Darth Vader in Star Wars films like Star Wars. Episode V: The Empire Strikes Back (1980) or Star Wars. Episode VI: Return of the Jedi (1983), will do it again in this new film.
This film is set between the events of the episodes III and IV of Star Wars and five years after 'Star Wars Rebels' (2014).
This film marked the first time in which John Williams did not compose the live-action theatrical Star Wars film musical score they accompanied said film. Alexander Desplat is in charge of the music.