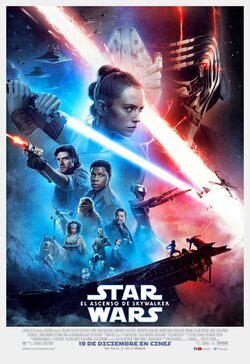 Write a review
Release Dates
United Kingdom: December 19 2019
United States: December 19 2019
Plot
In the ninth episode of 'Star Wars', the intergalatic saga created by George Lucas and passed on to Walt Disney Studios, we arrive at the end of not only the trilogy that began in 2015, but also the epic history of the Skywalker clan as a whole. A year after the shocking events of 'The Last Jedi', the scattered remains of the Resistance attempt to regroup to face the First Order. Rey (Daisy Ridley, Finn (John Boyega), Poe (Oscar Isaac) and Rose (Kelly Marie Tran) reunite with some familiar faces of the franchise who return once more for the fight against the Dark Side, such as Lando Calrissian (Billy Dee Williams), Luke Skywalker (Mark Hamill) and General Leia, in the last on-screen appearance of the late Carrie Fisher formed from earlier footage. Together, this motley crew will face Kylo Ren (Adam Driver) and other dark forces lurking in wait, including the return of Darth Sidious himself, Emperor Palpatine (Ian McDiarmid), whilst also tackling their own internal doubts and fears. With the ancient dispute between the Jedi and the Sith gathering speed as it races towards its inevitable end, they must look to the Force and the strength within themselves to triumph in this grand finale to the nine episodes of the iconic 'Star Wars' saga.
Awards
Premios
Año
Nominaciones
Premios ganados
Academy Awards (Oscars)

2020
3
-
BAFTA Awards

2020
3
-
Director
Cast Star Wars: The Rise of Skywalker
Videos
Photos
Reviews Star Wars: The Rise of Skywalker
Trivia Star Wars: The Rise of Skywalker
J.J. Abrams is the second filmmaker to helm more than one 'Star Wars' entry. The first was series creator George Lucas.
Even though she passed away, Carrie Fisher (the iconic Leia Organa) will return for one last 'Star Wars' episode thanks to a complex process of CGI reconstruction, footage previously shot and inventive editing skills.
The ninth episode of the galactic saga will be released 20 years after 'The Phantom Menace', that made its way to theaters on 1999.