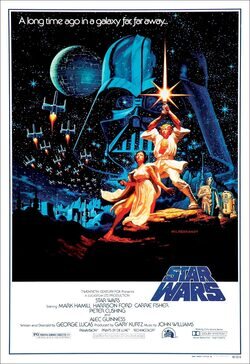 Write a review
Release Dates
United Kingdom: December 27 1977
United States: May 25 1977
Plot
Director
Cast Star Wars: Episode IV - A New Hope
Videos
Photos
Reviews Star Wars: Episode IV - A New Hope
Trivia Star Wars: Episode IV - A New Hope
George Lucas was so sure that the film would be a failure that, instead of going to the premiere, he went on vacation to Hawaii with his friend Steven Spielberg. It was there where they got the idea for 'Raiders of the Lost Ark'.
In early drafts of the script, R2-D2 was speaking standard English, although his vocabulary was rather foul. Finally his dialogues were eliminated, while most of the reactions of C-3PO were left in.
George Lucas showed one of the first cuts of the film to several directors, including Brian De Palma, who thought it was the "worst movie ever" and Steven Spielberg, who predicted it would be a blockbuster.