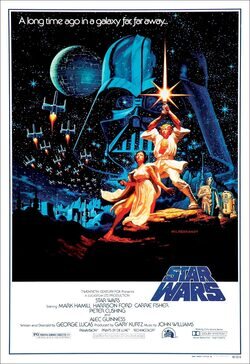 Write a review
Release Dates
United Kingdom: December 27 1977
United States: May 25 1977
Plot
In 'Star Wars: Episode IV - A New Hope' Princess Leia (Carrie Fisher), leader of a rebel movement that is fighting to end the Galactic Empire and restore the Republic, is captured by the evil Imperial forces, led by the ruthless Darth Vader (David Prowse), the Sith Emperor's right hand. Before becoming the prisoner of this leaders of the dark side, Leia sent a distress message to Jedi Knight Obi-Wan Kenobi (Alec Guinness). But the hologram in which the princess cried for help, is intercepted by Luke Skywalker (Mark Hamill), a farmer whose life changed forever when he discovers the Force. This brave hero aided by Han Solo (Harrison Ford), captain of the spaceship "Millennium Falcon", his faithful sidekick Chewbacca and the droids R2-D2 and C-3PO, will be in charge of fighting the enemy, rescue the princess and re-establish justice within the Galaxy. George Lucas wrote and directed a film that change science fiction movies forever and started a successful series of films.
Director
Cast Star Wars: Episode IV - A New Hope
Videos
Photos
Reviews Star Wars: Episode IV - A New Hope
Trivia Star Wars: Episode IV - A New Hope
George Lucas was so sure that the film would be a failure that, instead of going to the premiere, he went on vacation to Hawaii with his friend Steven Spielberg. It was there where they got the idea for 'Raiders of the Lost Ark'.
In early drafts of the script, R2-D2 was speaking standard English, although his vocabulary was rather foul. Finally his dialogues were eliminated, while most of the reactions of C-3PO were left in.
George Lucas showed one of the first cuts of the film to several directors, including Brian De Palma, who thought it was the "worst movie ever" and Steven Spielberg, who predicted it would be a blockbuster.