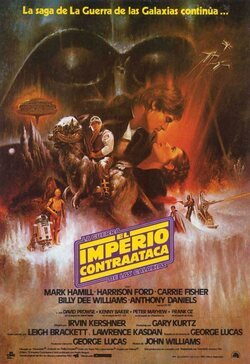 Write a review
Release Dates
United Kingdom: May 21 1980
United States: June 20 1980
Plot
The fifth episode of the Star Wars saga, which came to theaters three years after revolutionary film 'A New Hope', continues the adventure of the Jedi apprentice, Luke Skywalker, the princess leader of the rebel movement, Leia and the smuggler, Han Solo; in a film that, didn't managed to surpass his predecessor as far as the box office is concerned, but got very flattering reviews. Our heroes began this new adventure in 'The Empire Strikes Back' seeking refuge after the successful attack on the Death Star, because the imperial troops were chasing the rebels who finally managed to hide in the ice planet of Hoth. Luke (Mark Hamill), eager to learn the secrets of the Force and defeat the evil Darth Vader, travels to Dagobah accompanied by R2-D2 with the intention of finding the master Yoda. While Han Solo (Harrison Ford), Princess Leia (Carrie Fisher), Chewbacca and C-3PO manage to avoid the Imperial forces and asks the former owner of the Millennium Falcon, Lando Calrissian (Billy Dee Williams), for help in the mining world of Bespin where a trap hatched by Vader awaits. Irvin Kershner directed this film based on the story of George Lucas.
Awards
Premios
Año
Nominaciones
Premios ganados
Academy Awards (Oscars)

1981
3
1
Golden Globes

1981
1
1
BAFTA Awards

1981
3
1
Director
Cast Star Wars: Episode V - The Empire Strikes Back
Videos
Photos
Reviews Star Wars: Episode V - The Empire Strikes Back
Trivia Star Wars: Episode V - The Empire Strikes Back
The scene in which Luke used the Force to recover his lightsaber was achieved by filming Mark Hamill as he throw his weapon away and then running the film in reverse.
Carrie Fisher had to climb on a box to shoot most scenes because of her height difference with Harrison Ford.
Han Solo is the only character in the saga that, not being Jedi or Sith, uses a lightsaber. He used this weapon to open the belly of a Tauntaun and seek refuge inside.