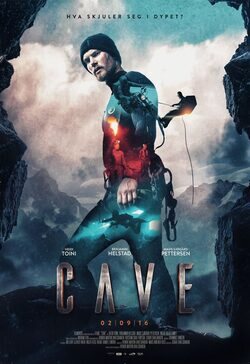 Ranking
Ranking: 8,714 out of 16,430 movies (up 3318)
Plot
A group of elite military men, two boys (Adrian and Viktor) and a girl (Charlotte), decide to go into an abyss to explore. What they do not know is that the worst of their nightmares are hidden ... underground. Personal relationships will not help either: Charlotte is now with Adrian, but she has not completely forgotten Viktor, so her feelings toward him could have serious consequences. They will have to face whatever is waiting for them down there and at the same time to the internal conflicts of the group. What will they find down there? Will they escape alive from the labyrinth into which they have entered? Filmed in both Mexico and Norway, the film is written and directed by Henrik Martin Dahlsbakken.
Director
Cast Cave
Photos
Trivia Cave
It's extremely doubtful that an experienced cave diver would smoke before a dive. Doing so risks breathing difficulties during the dive and potential respiratory infections afterward.
Experienced cavers never use flares as: 1) There is the potential for flammable/explosives gases such as methane being present. 2) The flares would litter the cave, the spoiling future cave explorations for others.
One of the characters comments upon the fact "someone might have been there (the cave) before". This is obvious well before he says it as there are clearly several signs along the rocks leading to the cave itself and the cave's entrance is covered what appears to be a heavy welded steel crating.