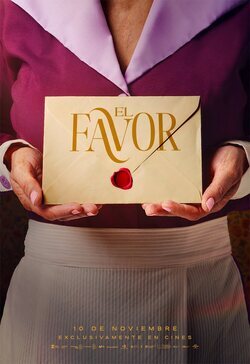 Title: El Favor
Original Title: El Favor
Year: 2023
Info
Plot
'El Favor' script has been written by writers Cristobal Garrido and Adolfo Valor (Reyes de la Noche, Amor de madre) and it tells the following story:
Gallardo's family is respected by everyone for being a rich and influential family. The Gallardo's spend every summer in a farmhouse which is very well taken cared of by 'la Tata' Amparito, who is very loved by the three Gallardo siblings named: Teresa, Benja and Aura. Amparito have always been like a second mother for them and that's why they love her so much.
That's the reason why, when they find out that their beloved Tata has died, the three siblings decide to travel to a small village to say one last goodbye. A last goodbye and, at the same time, they want to reencounter with Amparito's only child, Tomás.
Amparito's last will is to be buried in the family pantheon, but the Gallardo family are not willing to do such thing. After they deny their Tata's last wish, they receive Amparito's legacy. Their Tata left them a few letters where she does not write a friendly and loving goodbye. On the contrary, she writes revengeful thoughts, bringing out dirty secrets and truths which will really hurt the members of the Gallardo family.
In words of the director Juana Macías, the movie is about "the family and its capacity of complicating life.".
Cast
Director:
Juana Macías
Photos
Recommended movies and tv shows El Favor