Trolls Band Together
2023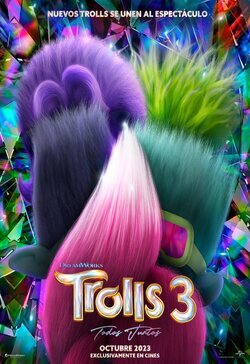 Title: Trolls Band Together
Original Title: Trolls Band Together
Year: 2023
Info
Release Dates
UK: October 20 2023
United States: November 17 2023
Plot
'Trolls 3: Band Together' is the third movie of the funny animated musical saga of Dreamworks Animation. The film is directed by Walt Dohrn, produced by Gina Shay and co-directed by Tim Heitz. In this new adventure, the Trolls will prepare for a familiar reunion full os comedy, music and action, starred by the big colorful family which we met in 2016.
After two movies where we could see Poppy (original voice by Anna Kendrick) and Branch (Justin Timberlake) being annoyed by each other, then being friends and flirting, now they're officially a couple. While they get to know each other and start spending more time together,
Poppy discovers Branch's past
and discovers a big secret from his family.
In the past, Brach was a member of Poppy's favorite music group, BroZone, a boyband formed by him and his four brothers: Floyd (Troye Sivan), John Dory (Eric André), Spruce (Daveed Diggs) and Clay (Kid Cudi). The group and the family broke up when Branch was still a baby, so the youngest member from BroZone never got to see his brothers since then.
But when Floyd is kidnapped by an evil couple of pop superstars, Velvet (Amy Schumer) and Veneer (Andrew Rannells) to take advantage of his musical talent. Branch and Poppy will embark on a emotional and exciting trip to reunite the family and rescue Floyd of a worst destiny than being forgotten by his fans.
Listings
'Trolls Band Together' is showing in 4 today, including:
Cast
Director:
Walt Dohrn
Videos
2:18
Photos
Trivia
Girl Power
This is the eighth DreamWorks movie that has a female lead. The other seven movies were 'Chicken Run', 'Monsters vs Aliens', 'Trolls', 'Abominable', 'Trolls World Tour', 'Spirit' and 'Ruby Gillman, Teenage Kraken'.
The Origin
The movies and the characters of the 'Trolls' saga are based on the classic Trolls toys of Danish origin, which were made of wood and had colorful hair. They were created by Thomas Dam as a Christmas gift for his daughter.
DreamWorks trilogies
This is the fifth DreamWorks animation movie that turns into a trilogy after 'Shrek The Third', 'Madagascar 3: Europe's Most Wanted', 'Kung Fu Panda 3' and 'How To Train Your Dragon: The Hidden World'.
Recommended movies and tv shows Trolls Band Together