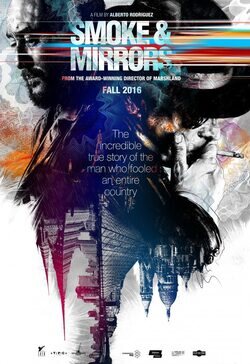 Write a review
Ranking
Ranking: 1,853 out of 16,014 movies (up 2985)
Plot
Francisco Paesa (Eduard Fernandez), responsible for the most important operation against ETA history, is involved in an extortion case during the crisis of the GAL and has to flee the country. When he returns after a number of years, ruined and not in a good place, he is visited by the former Director General of the Civil Guard, Luis Roldán (Carlos Santos) and his wife, Nieves Fernández (Marta Etura). The couple offer him a million dollars to help save 1,500 million pesetas (old Spanish currency) stolen from the public treasury, which holds in its hands the perfect opportunity to take revenge on the Spanish government, with help from his close friend Jesus Camoes (Jose Coronado). Alberto Rodriguez director of 'La isla mínima' and 'Grupo 7' directed the film.
Awards
Premios
Año
Nominaciones
Premios ganados
Goya Awards

2017
14
2
Feroz Awards

2017
10
1
Director
Cast El hombre de las mil caras
Photos
Reviews El hombre de las mil caras
Trivia El hombre de las mil caras
Alberto Rodríguez said that this film was underway before that 'La isla mínima'.
Neither Alberto Rodriguez nor Carlos Santos, actor that plays Luis Roldán, don't want to meet this man, not to feel media coverage.
The film has set in Madrid, Geneva, Paris and Singapore.