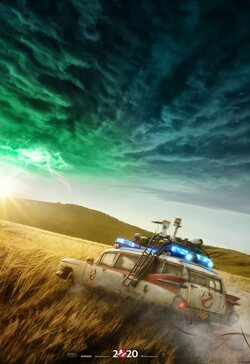 Release Dates
United Kingdom: November 11 2021
United States: November 11 2021
Ranking
Ranking: 293 out of 16,361 movies (up 204)
Plot
New installment of 'Ghostbusters' directed by Jason Reitman. Set in the universe of 'Ghostbusters' and 'Ghostbusters 2' released in 1989, this time the ECTO-1 will know the actuality. The tape tells the story of Trevor and Phoebe, two teenagers who are forced to move to a town with their mother Callie (Carrie Con), who has just gone bankrupt. The choice of this place and no other to start a new life is because the house where they will reside belonged to their grandfather, and is the only property they maintain today. Once settled, the family will begin to integrate into the neighborhood. Trevor (Finn Wolfhard) and his sister Phoebe (McKenna Grace) begin to investigate the secrets that have remained hidden for decades in their family's past. All this with the help of Professor Grooberson (Paul Rudd), who teaches them everything they should know about ghosts and everything that involves it. The story is a direct sequel to 'Ghostbusters 2', this production created and developed by the son of the original director (Ivan Reitman) approaches in a darker way than the originals to the supernatural theme without leaving behind the comic spirit of the protagonists who They are also characterized by being young and adventurous as in the previous ones.
Director
Cast Ghostbusters: Afterlife
Videos
Photos
Trivia Ghostbusters: Afterlife
Finn Wolfhard did not know that he was attending to the casting of 'Ghostbusters: Afterlife' because they wanted to keep the details of the hearing as generic and vague as possible, since the production of this was still completely secret.
Jason Reitman, the director, appears in 'Ghostbusters 2' playing the boy who tells Ray that according to his father Ghostbusters are "full of shit."
Due to the poor reception of the Ghostbusters movie in 2016, any idea of sequels to it was abandoned. Therefore the following would be sequels directly from the movies of the 80s, as in this case.