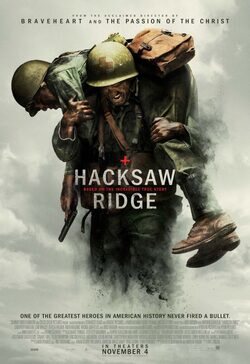 Write a review
Release Dates
United Kingdom: January 27 2017
United States: November 04 2016
Plot
Japan, 1945. WWII. Desmond Doss (Andrew Garfield), a man opposed to violence enlists in US army to work as a doctor. After battling against the entire militar establishment to become a Conscientious Objector Doss manages to be sent as a doctor and surgeon to the Pacific battlefront. Although not very popular upon his arrival amongst his brothers in arms in Okinawa, Desmond will demonstrate his bravery saving 75 injured men and gaining the entire battallion's respect. He became the first Conscientious Objector in American history to be awarded the Medal of Honor. Based on a true story the film was directed by Mel Gibson. The movie means the return of Gibson to directing, 10 years after 'Apocalypto'.
Awards
Premios
Año
Nominaciones
Premios ganados
Academy Awards (Oscars)

2017
6
2
Golden Globes

2017
3
-
BAFTA Awards

2017
6
1
Director
Cast Hacksaw Ridge
Videos
Photos
Trivia Hacksaw Ridge
Milo Gibson, son of Mel Gibson has an small part playing one of the soldiers. This marks his first apparition on screen and first father and son collaboration on screen.
Desmond T. Doss only accepted one Medal of Honor. It had initially been proposed that he received two, but he humbly declined. His work as a medic was praised beacuse he alone saved the lives of 75 men of his company without bearing firearms, as he was a conscientous objector.
The film will be released at Venice Film Festival as a 'non competition candidate film'.