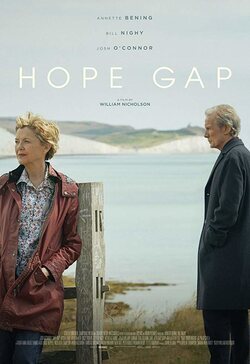 Write a review
Ranking
Ranking: 293 out of 16,179 movies (up 213)
Plot
"Hope Gap", directed and written by William Nicholson, is a family drama movie set in a small town of the United Kingdom and tells a current story about the situation of a marriage and his son. Bill Nighy and Annette Bening are the two classic actors who are responsible for playing a couple who have been together for 29 years-seemingly wonderful years when Edward (Bill Nighy) decides their marriage and leave the house where they had been sharing their lives for decades. In addition, Edward decides what to do when his son Jamie (Josh O'Connor), who is in the midst of a youth crisis, is visiting in their house and, in addition, not only that he is there, but he is the first to find out. Although everything seems perfect in this small family, from now on the three affected members who will find how they will face their lives in this new situation, going through all the personal phases that will be necessary until they are at peace with them both same as with other family members. From this moment they all try to rebuild their lives in that coastal town near the cliffs of Hope Gap, which give the film its name. Finally, the whole cast is completed by actors such as Nicholas Burns, Rose Keegan, Sally Rogers, Steven Pacey or Nicholas Blane.
Director
Cast Hope Gap
Photos
Trivia Hope Gap
It is shot largely in Seaford, in the eastern part of Sussex.
Based in a play from Nicholson called 'The Retreat from Moscow'.
It is also based on William Nicholson's own experience when his parents divorced after 33 years of marriage.