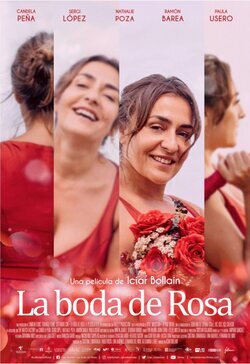 Write a review
Ranking
Ranking: 12 out of 16,076 movies (up 8)
Plot
Relationships with family are always something complicated in every household, but for Rosa one day it just all becomes too much. So just after turning 45 years old, she decides to live it all behind and not look back, with the idea of fulfilling her dream of having her own business. But nothing is as easy as it first seems, and even less living all your family behind, with her father, brother and daughter, who besides that have very different plans to hers. Icíar Bollaín comes bak after films such as 'Even The Rain', 'Katmandú, un espejo en el cielo' and 'The Olive Tree' with a comedy that explores the conciliation between our own lives and our personal aspirations and the relationships with everyone else around us, and how both of them must coexist inside one same person. With a script written by Bollaín alongside Alicia Luna (Take My Eyes'). The cast includes actors such as Candela Peña ('Take My Eyes', 'Age of Monster') as Rosa, Sergi López ('Pan's Labyrinth', 'The Man Who Killed Don Quixote') in the role of Armando, Nathalie Poza ('While At War', 'Cathedral of the Sea') as Violeta, Paula Usero (The Olive Tree', 'Amar es para siempre') as Lidia and Ramón Barea ('The Silence of the White City', 'Advantages of Traveling by Train') as Antonio, among others.
Director
Cast La boda de Rosa
Photos
Trivia La boda de Rosa
The shooting took place entirely in Comunidad Valenciana.
Icíar Bollaín writes the script with Alicia Luna, with whom she had already worked in her film 'Take My Eyes'.
The main actress, Candela Peña, works again with Icíar Bollaín after being part of the cast of the films 'Take My Eyes' and 'Hola, ¿estás sola?'.