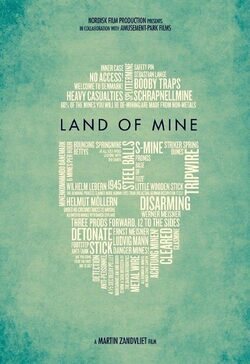 Write a review
Release Dates
United Kingdom: August 04 2017
Plot
Martin Zandvliet brings a new perspective on the events after the Second World War. The director wanted to tell a story in which the protagonists are the soldiers and where there is talks about the consequences that occurred after the signing of the Treaties of Peace. In 1945, after Germany surrendered and to sign peace, the II World War did not end for German soldiers, especially for young people. In the Danish west coast , they were forced to withdraw thousands of mines from the sand , did it by the Nazi army. The soldiers will have to work long hours without rest, in many cases, they was abused and treated as traitors of the nation, having to support the abuses of power, beatings, fights and scorn from the winners.
Awards
Premios
Año
Nominaciones
Premios ganados
Academy Awards (Oscars)

2017
1
-
Director
Cast Land of Mine
Videos
Photos
Trivia Land of Mine
The use of German children for post WW2 mine sweeping has by many historian been declared as the worst case of war crimes ever conducted by the Danish state.
In the movie the Danish Sgt. Rasmussen lead the mine clearing operation. In real life these missions were controlled by the British forces, but with German Officers in command of each team
As of 2015 there still remains approximately 9900 german WW2 landmines on the west coast of Denmark in the area of Skallingen.