Something Is About to Happen
2023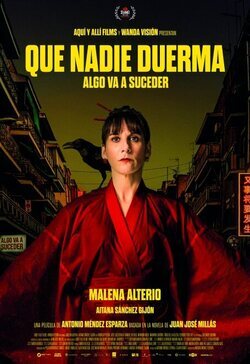 Title: Something Is About to Happen
Original Title: Que nadie duerma
Year: 2023
Info
Country:

Spain

Romania

Language: Spanish
Length: 122 Minutes (2 hours 2 min)
Distributor: Wanda Films
Release Dates
United States: April 03 2020
Plot
The film 'Let Nobody Sleep' is based on the novel of the same name by Juan José Millás and follows the story of Lucía, a woman who is in a difficult moment in her life. She has just lost her job as a computer programmer who kept her life in order. With great uncertainty about her future and how she will be able to survive on a regular taxi trip, she meets a driver with whom she has more in mind. common than you might imagine, the same thing has happened to her. So, taking her as inspiration, he decides to become a taxi driver, something that at first doesn't sound out of this world.
Her days will become a coming and going through the streets of Madrid, which will make her meet different passengers who will immerse her in new dramas, she will try to look for love and find new adventures that will lead her to a completely different life than the one she was used to.
Although Lucía won't keep calm for long.
He decides to embark on revenge against all those who have taken away his own history, stole his life and with which he realized that he should never have trusted him.
Directed by Antonio Méndez Esparza. Miguel Morales and Pedro Hernández Santos are in charge of production. The cast includes Malena Alterio
Aitana Sánchez-Gijón, José Luis Torrijo, Rodrigo Posión, Manuel de Blas, Mariona Ribas, Mariano Llorente and Íñigo de la Iglesia.
Cast
Director:
Antonio Méndez Esparza
Videos
2:02
0:53
Photos
Recommended movies and tv shows Something Is About to Happen